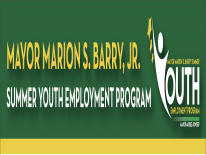 Mayor Marion S. Barry's Summer Youth Employment Program
Important Documents
2021 MBSYEP Overview
2021 MBSYEP Parent Consent Form
2021 MBSYEP Participant Consent
MBSYEP Online Orientation Guide
2021 MBSYEP Eligibility Document Checklist
2021 MBSYEP Youth and Parent Information Packet
2021 MBSYEP Learn the Difference Chart
2021 MBSYEP Youth and Parent Information Packet – Spanish
2021 MBSYEP Participant Consent Form (18 and Older) – Spanish
2021 MBSYEP Parent Consent Form – Spanish
2021 MBSYEP Eligibility Document Checklist – Spanish
Kids Ride Free Program
The Kids Ride Free (KRF) SmarTrip card can also be used this summer for transportation to and from activities related to MBSYEP. Your KRF SmarTrip card can be used for Metrorail, Metrobus, and for the DC Circulator. MBSYEP will not provide an additional SMARTRIP if the participant is eligible for Kids Ride Free. If you currently have a KRF SmarTrip card for school, please hold on to it so that you can use it this summer.
If you previously received a KRF SmarTrip card, but have lost or misplaced it this year, please request a new Kids Ride Free SmarTrip card from your school's DC One Card administrator. Please be aware that all lost cards will be reported to WMATA and will no longer be active.
For additional information please click HERE.
Program Dates
MBSYEP 2021 will begin on Monday, June 28, 2021 and will end Friday, August 6, 2021.
The six-week program consists of 29 days of work (District of Columbia Government will observe July 5, 2021 as a holiday and youth will not be paid for this day).
Program Timeline
| Event | Date |
| --- | --- |
| Application Opens | January 29, 2021 |
| Application Closes | March 6, 2021 |
| Certification Ends | March 13, 2021 |
| Youth Orientation Begins | March 19, 2021 |
| Program Begins | June 28, 2021 |
| Program Ends | August 6, 2021 |