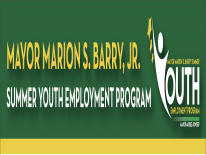 Mayor Marion S. Barry's
Summer Youth Employment Program
Frequently Asked Questions
What are the MBSYEP Dates?
MBSYEP will start on Monday, June 28, 2021 - Friday, August 6, 2021.
When did the 2021 Mayor Marion S. Barry Summer Youth Employment Program (MBSYEP) application open?
The 2021 Mayor Marion S. Barry Summer Youth Employment Program application opened on Friday, January 29, 2021.
When was the deadline to apply to participate in MBSYEP 2021?
The deadline to apply is Saturday, March 6, 2021.
When was the last day to complete the document certification process?
The last date to provide certification documents to complete your registration is Saturday, March 13, 2021 at 11:59 PM. Due to COVID-19, participants will be invited to Virtual certification to submit their certification documents online.
What if I do not have an email account?
All applicants must have an established email account, owned solely by them, to receive all correspondence regarding the 2021 MBSYEP. Emailed updates will include: the application status, information regarding your assigned work-site, instructions for selecting a method to receive your stipend and/or pay check, general program information and updates. In some cases you will also receive items through traditional mail. If you do not have a personal email address, please visit one of the following links below to get a free email address before registering.
Gmail
AOL
Outlook
Zoho
Mail.com
ProtonMail
iCloud Mail
GMX Mail
Mozilla Thunderbird
Yandex Mail
What is the MBSYEP Virtual Program?
Due to COVID-19, MBSYEP will transition to an online platform. Youth will be able to complete modules via Career Edge or an approved host platform.
What is the MBSYEP Hybrid Program?
Youth can experience a combination of virtual and in-person participation with their supervisors on a rotation.
Will there be in-person Orientations?
No, due to COVID-19, all orientations will be completed online through Career Edge.