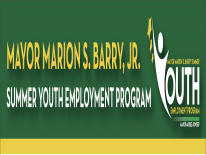 The Mayor's Opportunity Scholarship launched in 2017 as a partnership between the Executive Office of the Mayor and the Department of Employment Services. The purpose of this scholarship is to provide financial assistance to eligible MBSYEP participants who applied and were selected through a rigorous application process.
Award Amount
The Mayor's Opportunity Scholarship will provide 75 scholarships in the amount of $2,000 each for young adults ages 18-24, who have successfully attained a high school diploma or equivalent, participated in 2021 MBSYEP and enrolled in post-secondary education or occupational skills training or the military.
Eligibility Criteria
The Mayor's Opportunity Scholarship Youth Scholars will be selected based on:
A. Application content, essay prompt
B. Enrollment in an accredited post-secondary education institution.
C. For Occupational Skills Training Candidates, Workforce Investment Council-approved in-demand occupations is required. Please visit https://dcworks.dc.gov/page/demand-occupation-list for approved in demand occupations.
D. Unmet financial need
E. Successful participation in 2021 MBSYEP as characterized by active participation and attendance at the career preparation activities. Please note that your Host Employer Supervisor will be contacted for verification of participation and performance.
F. Two letters of recommendation are required, one must be from your host site supervisor.
G. Commitment to serve as MBSYEP ambassadors. DOES reserve the right to use recipients' picture or likeness for public recognition of program.
H. Individuals entering the Military or ROTC requiring financial assistance who fall within this criteria.
Participation Agreement
The Mayor's Opportunity Scholarship Scholars agree that the scholarship will be paid directly to the education or training institution and will be used specifically for the purpose of educational expenses, college financial assistance, training and equipment cost, or support of post-secondary activities in accordance with the scholarship participation agreement.
For more information on the Mayor's Opportunity Scholarship program, please contact [email protected].