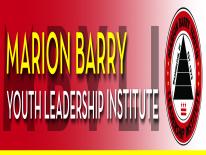 The Mayor's Youth Leadership Institute (MYLI) has been re-designated as the "Marion Barry Youth Leadership Institute" in honor of the late Councilmember and former Mayor Marion S. Barry, Jr., who passed away on November 23, 2014.
The Marion Barry Youth Leadership Institute (MBYLI) was founded in 1979 as a yearround program to train District of Columbia youth in the concepts of leadership and selfdevelopment. The MBYLI training model emphasizes practical, hands-on experience and a holistic approach to developing leaders for the 21st century. Each year, 150 young people participate in the year-round program and 350 youth participate in the Summer Training Program. Thousands of DC youth have received leadership training to date.
Members of the Institute come from a wide cross-section of ethnic, cultural, and economic backgrounds, reflective of the general population of the city. Leadership development training begins for members of the Institute at age 14, and generally concludes at age 18 when they are ready for college or other post-secondary opportunities. The Institute is strongly supported by its Alumni Association, an auxiliary group which meets regularly to generate support for the Institute.
Youth leaders are active in a variety of programs and special projects that allow them to demonstrate their acquired skills. These activities include:
MBYLI Youth Government
MBYLI Global Education Program
Overnight Residential Training & Retreats on local college campuses and local campsites
Serving as hosts to youth visiting the Nation's Capital from cities across the United States and from countries around the world.
Developing and publishing a MBYLI newsletter
Hosting an annual public speaking competition for youth
Hosting an annual Community Awards Banquet
Performing community service work
Sponsoring issues forums with local government officials and prominent industry professionals
NOTE: Eligibility will be in accordance with DC Government Phase Reopening Procedures.