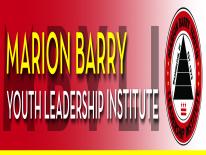 The Marion Barry Youth Leadership Institute (MBYLI) Youth Government is the official youth government of the District of Columbia, modeled after the structure of the District's local government and elected officials. The unique cohort of youth leaders is comprised of elected participants of the Marion Barry Youth Leadership Institute, from all 8 Wards of the nation's capital.
Elected positions include:
Youth Mayors (2) • Alpha Level Deputy Youth Mayor (1)
Youth Congressional Member (1) • Youth Attorney General (1)
Youth City Council Chairperson (1)
At-Large Youth City Council Members (4)
Youth Ward City Council Members (4 per Ward)
Annually, members of the cohort engage in various forms of civic engagement and are trained through a series of discussions, meetings regarding issue advocacy, and grassroots organizing. Each year is characterized by different project initiatives, determined by the civic interests of the cohort and the nature of current political and social issues.
The cohort frequently partners with organizations on a national scale regarding civic engagement. Examples of collaborations include:
Young Men's Christian Association (YMCA): "Empowering Youth Voices To Shape Our Future" Forum
Moms Demand Action (MDA) For Gun Sense In America: "DC Peacemaker Summit"
Martin Luther King Holiday DC Peace Walk and Parade
Martha's Table
Through the Youth Government, MBYLI has developed a youth-led dynamic that is unparalleled in its energy and mission of placing youth leaders at the forefront of civic impact and legislative advocacy.